Higher Education Opportunity Program (HEOP)
Higher Education Opportunity Program (HEOP)
Updated by AU Staff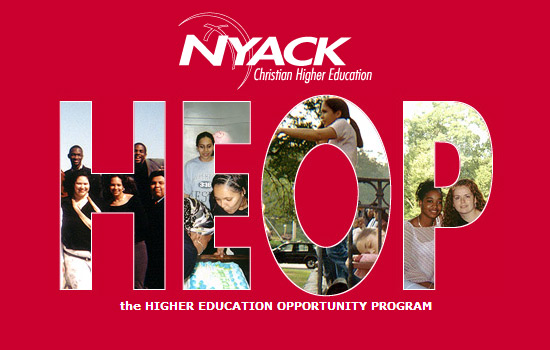 This program is designed for NYS students who come from households with modest incomes. These students have potential for success at Nyack College, but their high school performance and/or test scores understate their potential.
Initiated in the Spring of 1975, the Higher Education Opportunity Program at Nyack College is administered by the Division of Student Success. The program has established a record of success at the institution and is regarded as an integral part of the college.
Through the years, HEOP students have held many campus leadership positions. They have served as student government officers, class presidents, club presidents, resident assistants, and baccalaureate speakers. They have been named to the Dean's List, have received awards and scholarships for academic achievement, have earned faculty citations for community service, have been inducted into honor societies, and have graduated with honors. Every year HEOP students travel to such countries as England, Israel, Korea, Japan, Kenya, and the Philippines.
HEOP 2022 Application
CLICK HERE TO ACCESS THE APPLICATION FORM
HEOP Contacts
Gwen AmesDirector, Division of Student Success
HEOP DirectorEmail: Gwen.Ames@nyack.edu
Codi BobbAssistant Director of HEOPEmail: Codi.Bobb@nyack.edu
If you have any questions and would like to speak to us about HEOP, please email Janice.Phillips@nyack.edu.